Add Captions to Video Gglot
Transcribe, Share, and Caption Your Videos with Ease – All with Gglot!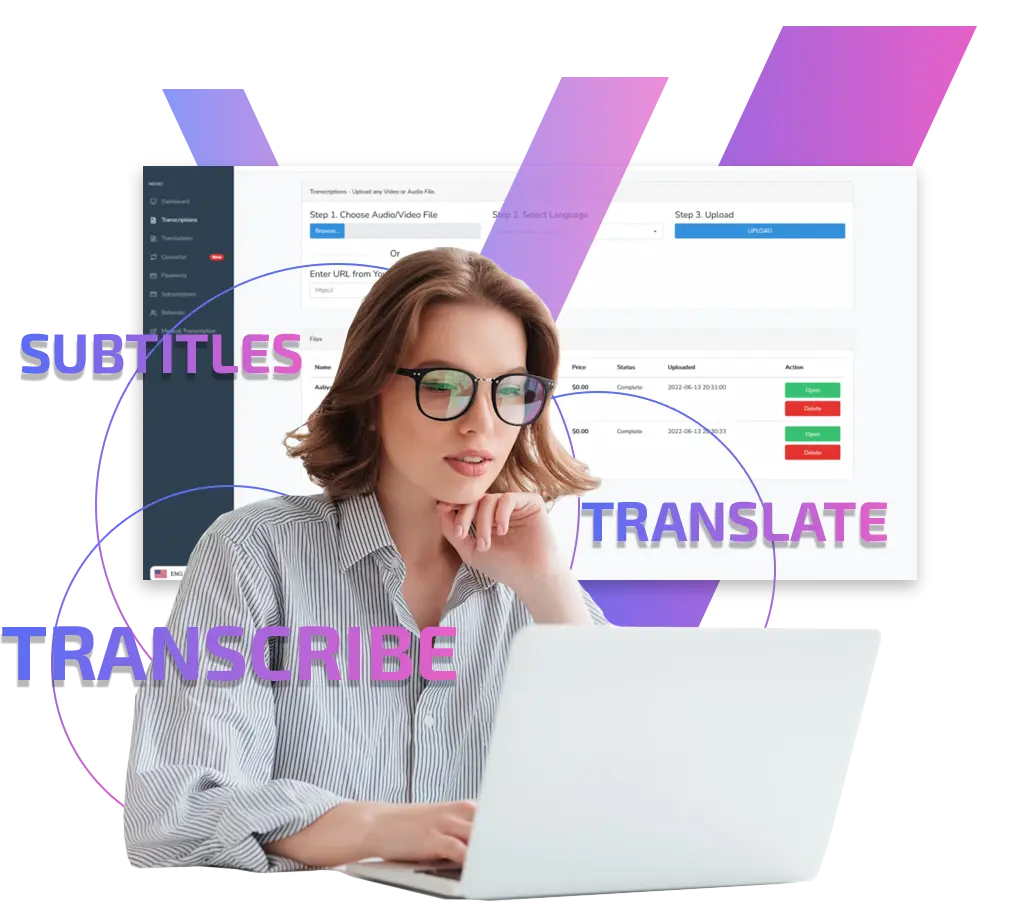 Get fast, accurate transcriptions!
Unlock the Full Potential of Your Videos with Gglot – Transcribe, Share, and Add Captions with Ease. With Gglot, you have the power to make your video content more accessible and impactful than ever before. Try it out today!
Captions are an essential tool for improving the accessibility and comprehension of your video content. With Gglot, you can easily add accurate captions to your videos, saving you valuable time and effort.
Our advanced transcription software features an automatic caption generator that simplifies the captioning process. Whether you're a content creator, journalist, or academic, Gglot's captioning solution is the perfect tool to enhance the accessibility and reach of your multimedia content.
Our user-friendly platform simplifies the captioning process, making it accessible to users of all skill levels. You can choose to add captions to your video in three different ways – typing them manually, using our speech-to-text software for auto-generation, or uploading a pre-existing caption file (e.g., SRT, VTT, ASS, SSA, TXT).
At Gglot, we prioritize the security and confidentiality of your data. Our state-of-the-art encryption technology protects your files and ensures that your information is kept private at all times.
Experience the transformative power of Gglot's captioning service today and unlock new possibilities for your video content. Try Gglot now and take your content's accessibility, reach, and impact to the next level.
Try to add Captions to Video?
Here's a Few Ways to Do It: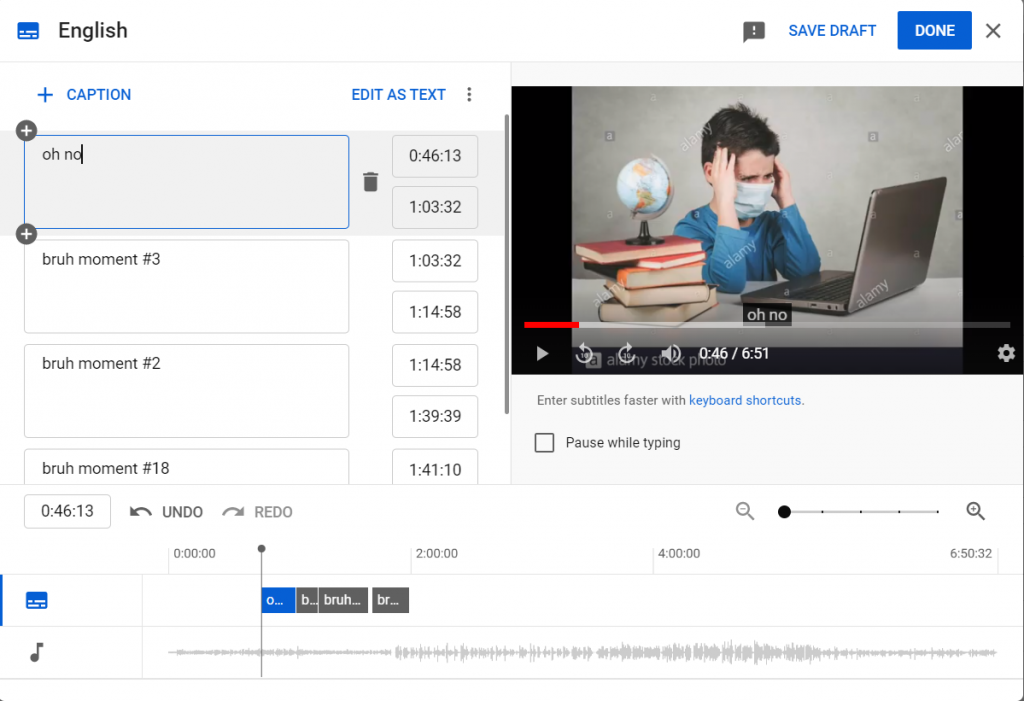 Manually (Not Recommended)
Using YouTube's editor you can create subtitles manually by selecting the language, and then typing the words out. However, all the problems with human transcription come with it, costing you a lot of time and energy. Manually adding captions to your videos can be a daunting and time-consuming task. From typing out each word to syncing the timing with your video, it's a process that requires a lot of effort and attention to detail. Not to mention, it can be difficult to ensure accuracy and consistency throughout the entire video.
Instead of listening and transcribing and listening and transcribing…have Gglot's software listen once- and let you transcribe the rest! When you get your transcript, copy and paste the text with appropriate timestamps, which will save you a significant amount of both time and effort.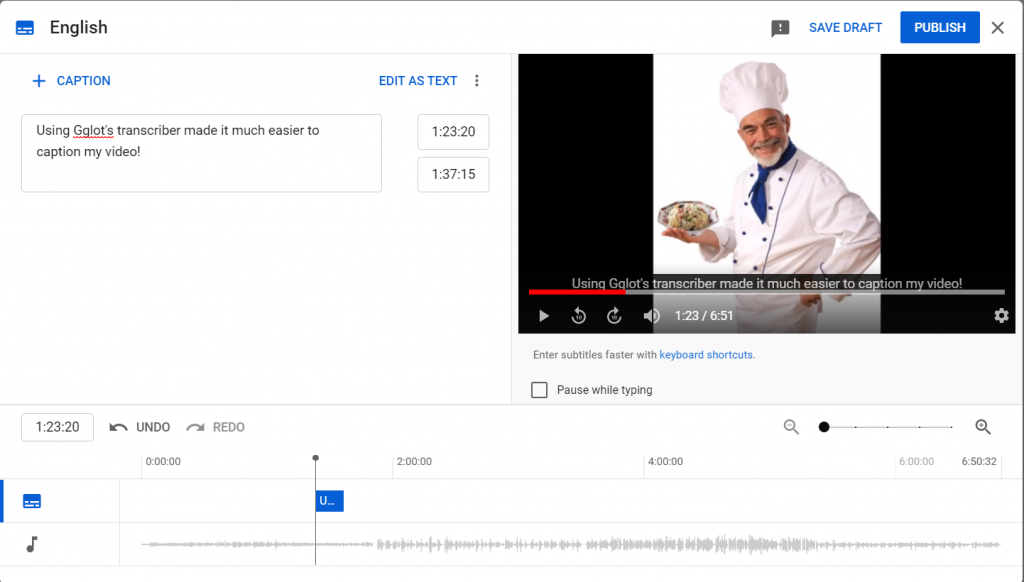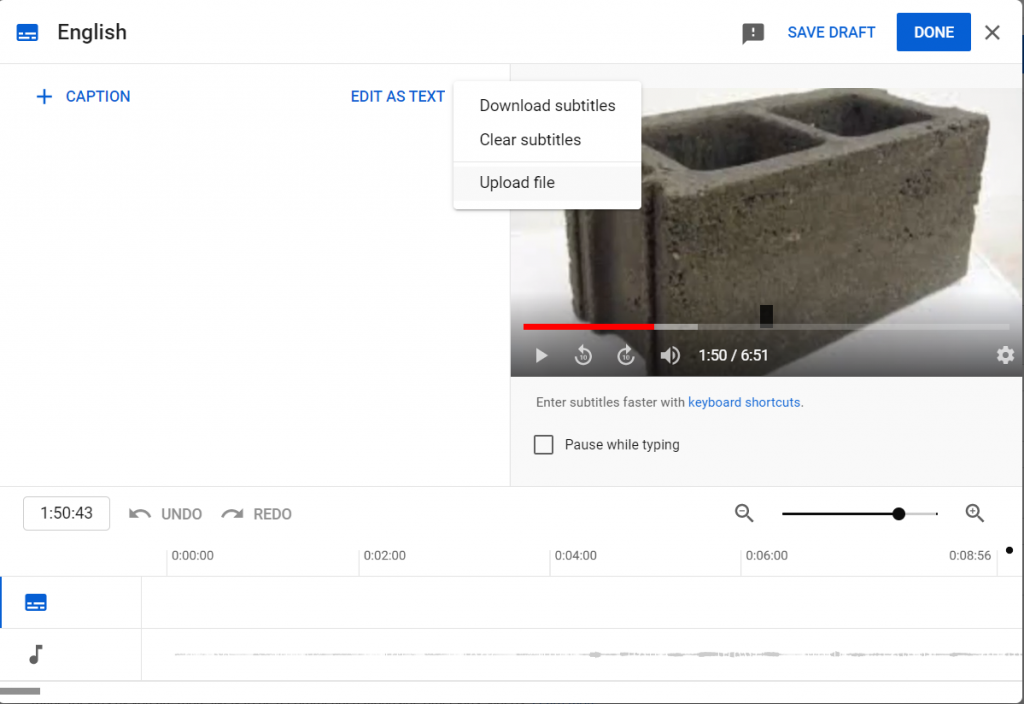 Perhaps you'd like to save even more time and not transcribe it manually at all. Luckily, Gglot can turn your transcription into a .srt, .vtt or any other file that contains metadata. Skip the middleman (you) and upload your file directly to Vimeo, Youtube or any other video hosting site, and watch the unparalleled speed at which it captions for you!
With Gglot, you can transcribe your audio files quickly and easily, without sacrificing accuracy or quality. So what are you waiting for? Give it a try today!
Upload your audio file and select the language used in the audio.

Sit back and relax while our advanced algorithms convert the audio to text in just a few minutes.

Proofread and Export: Once the transcription is complete, take a few moments to review the text for accuracy and make any necessary edits. Then, add some final touches, click on export, and you're done!
You have successfully converted your audio into a text file that you can use for any purpose. It's that simple! Gglot can do more than just make captions. All you need to do is upload your file: audio, video or otherwise, and let us take care of your transcription needs. Have a foreign movie you need subtitles for? Gglot has you covered. Have an interview you need to review? Gglot has you covered? Need a transcript for your podcast to boost keyword searches? Gglot has you covered. With Gglot, all your online content creation is taken care of quickly, accurately and affordably.
No credit cards. No downloads. No evil tricks.