10 Best Transcription Apps in 2022
If you're still not transcribing your audio and video content… we'd just like to kindly ask: what are you waiting for?! Simply put, transcribing your media creates a win-win situation for creators and viewers alike.
Whether you're looking to transcribe your YouTube video or boost your SEO footprint, in this day and age, transcription software and services are crucial for anyone working with media.
Since there's no time like the present to get started, today we bring you our list of the top 12 Best Transcription Apps in 2022.
What are the Best Transcription Apps in 2022?
1. GGLOT
Transcribing videos and looking for the best transcription softwares can seem more complicated and daunting than it actually is, so let's find out what the best tools for the job are and what you should be looking to get out of your transcription software.
If you're looking for a quick and accurate automatic transcription software, our unique tools will deliver your transcript rapidly and efficiently, with the added benefit of directly uploading your media to our webpage. Our AI-powered transcription offers 85% accuracy in over 120 languages. Try it out for yourself.
| | |
| --- | --- |
| Software | GGLOT |
| Accuracy | 85% |
| Turn Around Time | 5 minutes |
| Languages Available | 100+ |
| Transcription Editor | Available |
| Compatibility | Online Transcription |
Our platform's algorithms are equipped with extensive punctuation skills, allowing it to correctly use commas, question marks, and full stops. Additionally, Gglot's text editor offers proofreading assistance, allowing you to quickly discover areas of the text that need to be tightened. You may also set a reminder for yourself or your coworkers by highlighting or commenting on a piece of a text.
2. REV
Boasting 170,000 customers worldwide, Rev handles and processes more files than most other services and has become one of the best automatic transcription software. Spanning in users from freelance researchers to professional writers, Rev offers 99% accurate manual results as well as automated audio transcription with 80% accuracy and is trusted by thousands for a reason.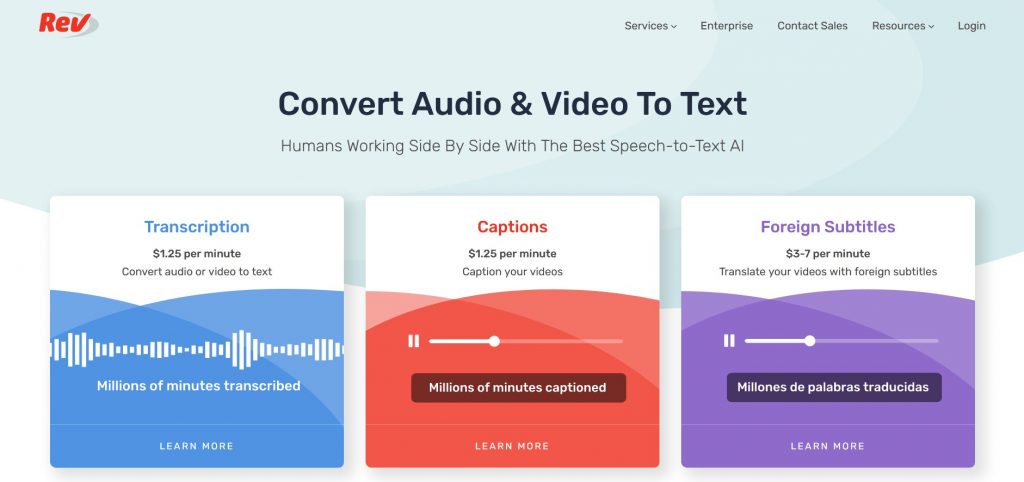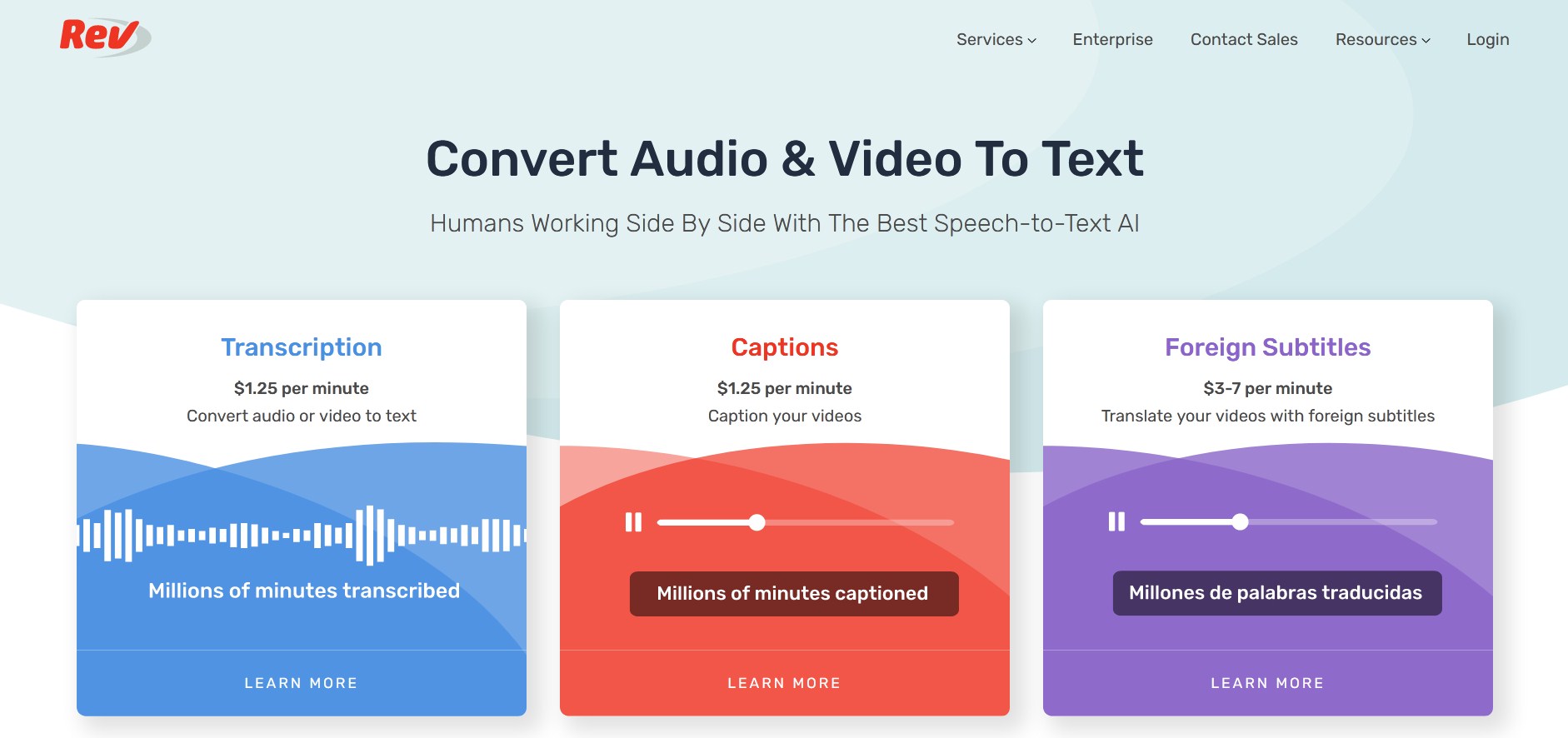 | | |
| --- | --- |
| Software | Rev |
| Accuracy | 80% |
| Turn Around Time | 5 minutes |
| Languages Available | 31 |
| Pricing | From 0.25$ / minute |
| Compatibility | Online Transcription |
3. SONIX
Sonix is an automatic transcription software that transcribes and translates audio and video from over 40 languages and will deliver your transcriptions in 5 minutes. With full API support and a multitude of exporting options, Sonix will handle pretty much anything on its video transcription software.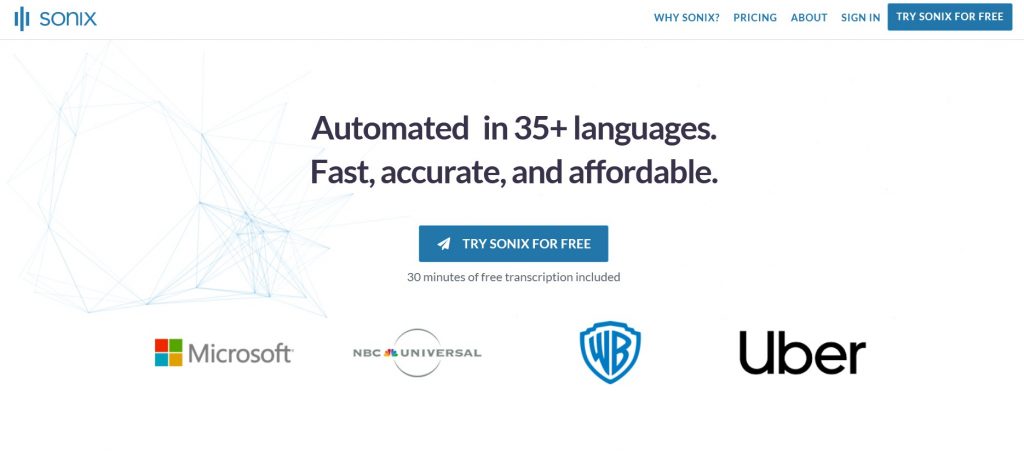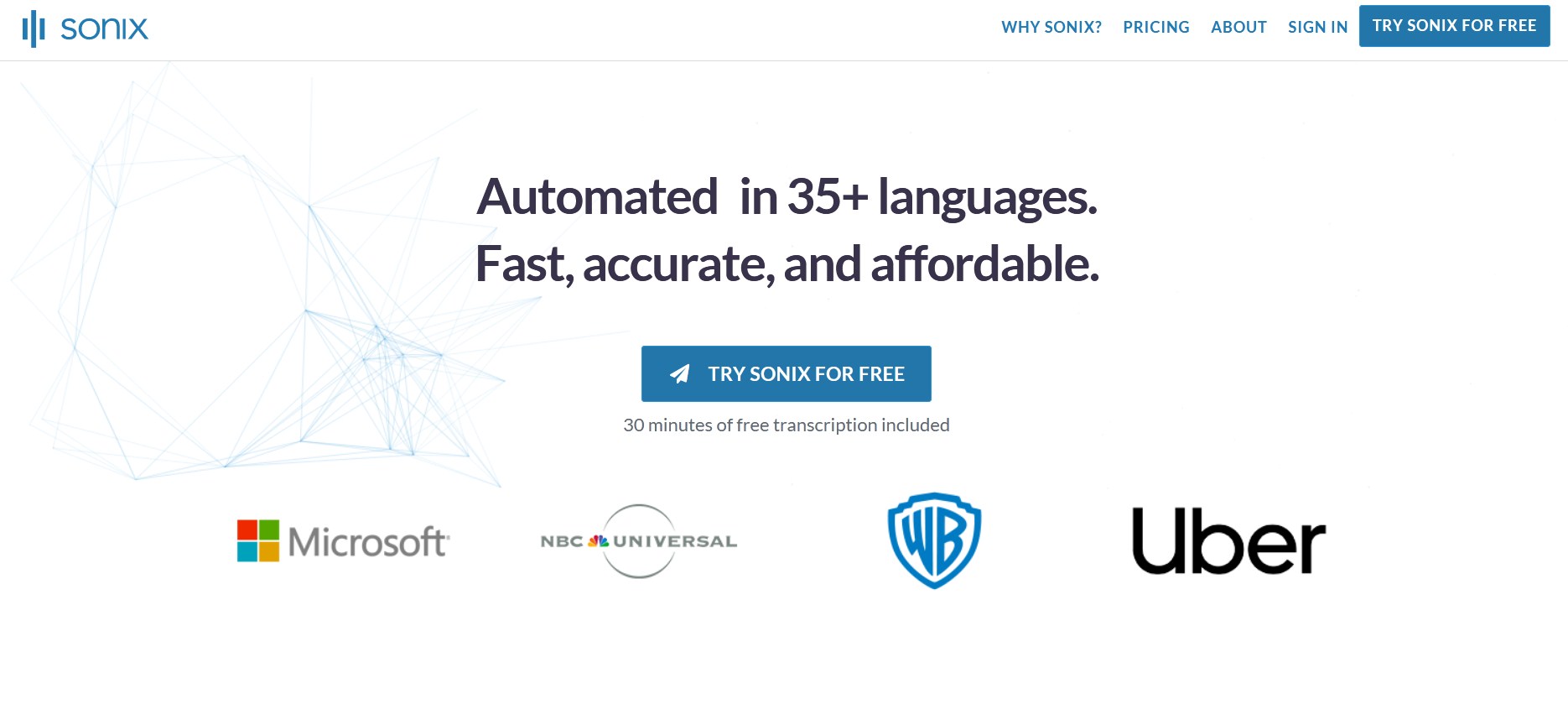 | | |
| --- | --- |
| Software | Sonix |
| Accuracy | 80% |
| Languages Available | 30 |
| Pricing | From 0.25$ / minute |
| Turnaround Time for 1 hour audio files | 5 minutes |
| Compatibility | Online Transcription |
4. OTTER
Otter will let you directly record something on your phone and use the web to transcribe it on the spot. Amazing turnaround times with a multitude of features in its real-time transcription software will greatly increase your productivity and output. With its free version, you will be able to even use one of the best free music transcription software available on the market.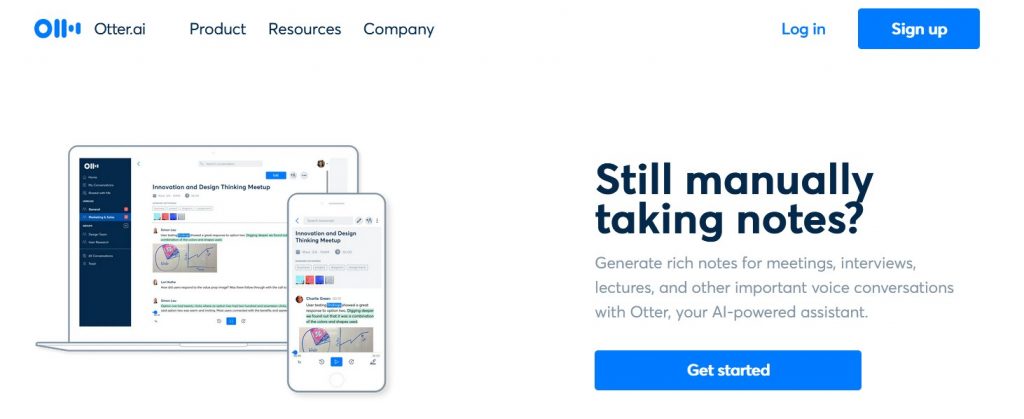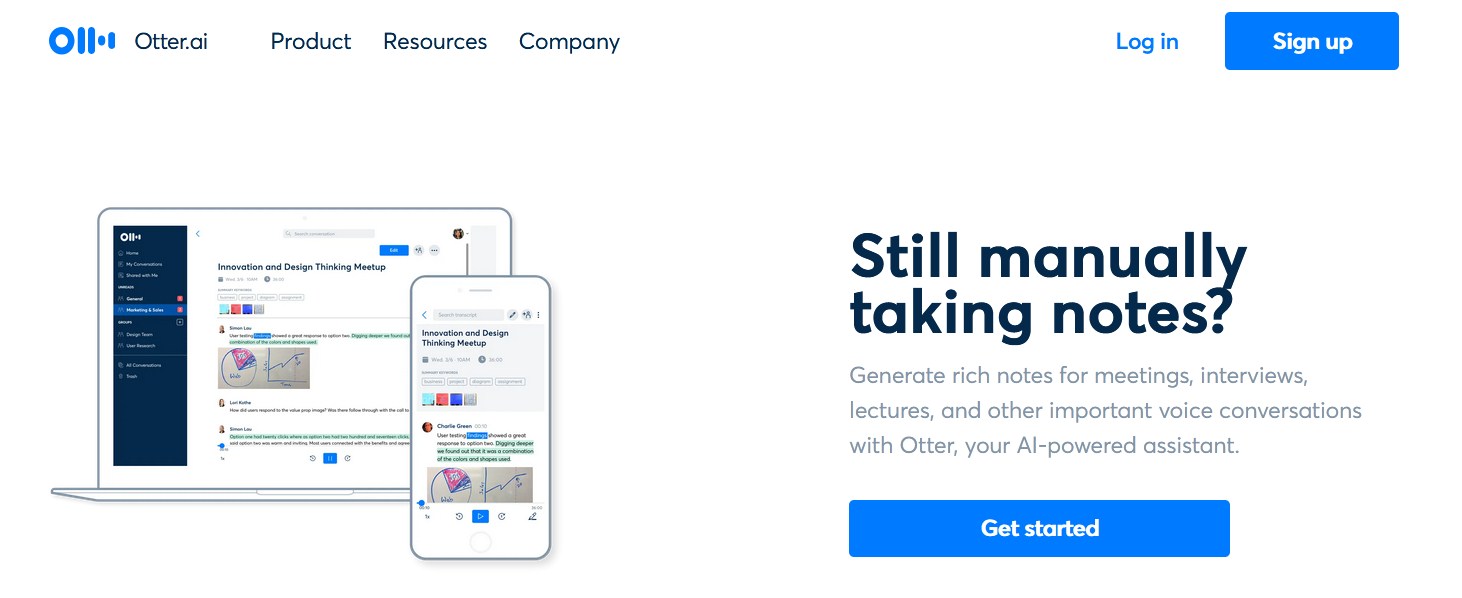 | | |
| --- | --- |
| Software | Otter.ai |
| Accuracy | N/A |
| Languages Available | 30 |
| Pricing | From $8.33 per month |
| Turnaround Time for 1 hour audio files | 5 minutes |
| Compatibility | Online Transcription, iOS and Android |
Otter is used by companies such as Zoom, Dropbox, and IBM for their transcribing needs. It allows you to record audio from your phone or transcribe it right away using a web browser. Instead than simply basic transcription, it may also include speaker ID, comments, photos, and important words, so you don't have to rely on third-party tools for minor tweaks.
Otter is ideal if you are looking to integrate your transcription software with applications like Zoom.
5. Descript
Costing just $2/minute on average and promising 24-hour deliveries, Descript offers immense accuracy and privacy with cloud storage and transcription online functionality.
Here are some more of this tool's features:
Progress on auto-save and sync
Files from your cloud storage can be synced.
Freely import completed transcriptions to combine with your media.
Customizable speaker labels, timestamps, and other features
| | |
| --- | --- |
| Software | Descript |
| Accuracy | 80% |
| Languages Available | 1 (English) |
| Pricing | Subscription with 180 minutes for Free |
| Turnaround Time for 1 hour audio files | 10 minutes |
6. Wreally
Working in over 60 different languages, Transcribe will convert your audio/video files into text with great ease. If you need medical transcription software, or something that will handle your podcasts, speeches, interviews or are looking for music transcription software, Transcribe offers professional services and quick delivery on almost anything you can imagine!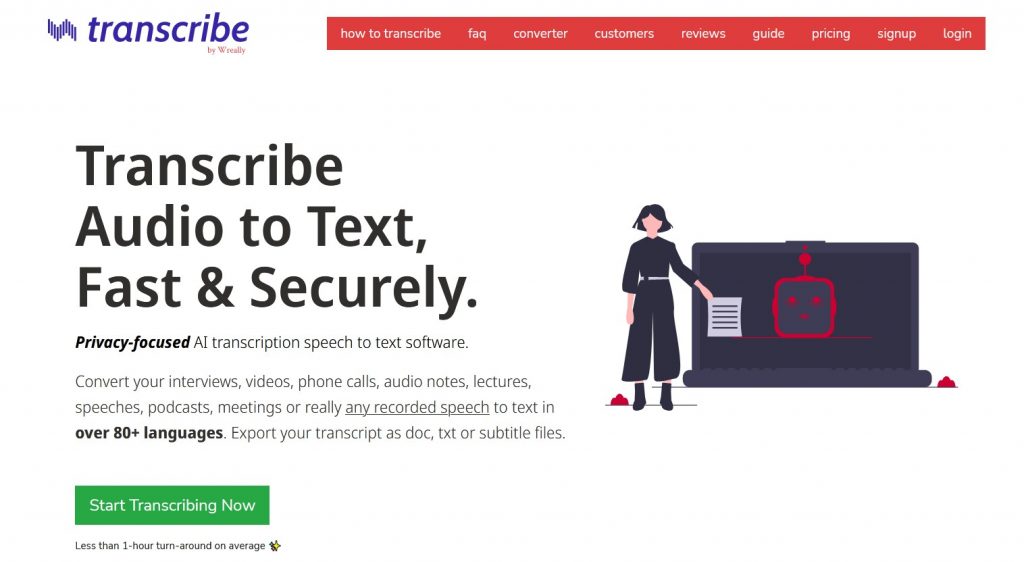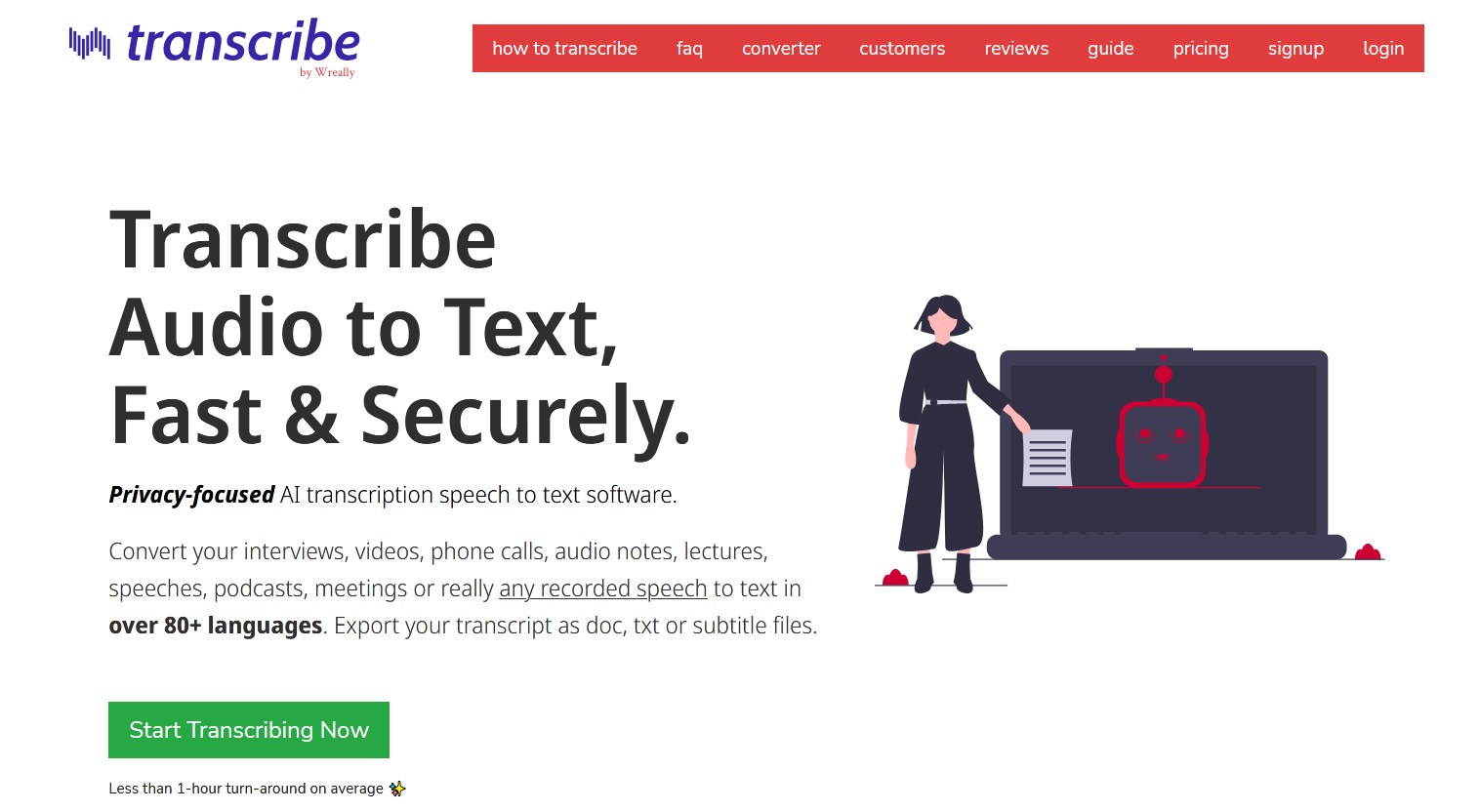 7. Trint
Using AI software that works in over 30 languages, Trint allows you to import a file and turn it into text where you'll then be able to edit it. It allows for easy collaboration and exports into Word and CSV formats.
Trint's AI generates good-quality transcripts from clear recordings, and its editing and collaboration features make for smooth commercial workflows. We only wish they had a business plan that included occasional users as well as frequent transcribers.
8. Temi
With specialized automatic video to text transcription software using machine learning with speaker identification, custom timestamps, and mobile apps for iOS and Android, Temi will deliver quick results on the go.
Temi is the cheapest service we tested, charging $25 per minute of submitted audio (aside from our own transcription software of course, which is the cheapser option). Only if you upload at least 240 minutes of audio per month will Trint's limitless subscription-based model be less expensive. Temi's algorithm is unconcerned by the complexity of your audio, thus the price remains same regardless of what you send.
Pros
Quick turnaround
Allows users to upload all types of audio and video files
Features Speaker Identification technology
Affordable, and easy to use
Cons
Temi can only transcribe recordings in English
9. Audext
Audext uses web-browser based software to automatically transcribe your audio for about $12/hour. Featuring a built-in editor and auto-save progress, Audext also offers subscription-based services if you need to get more out of your text transcription software.
| | |
| --- | --- |
| Software | Audext |
| Languages Available | 100 |
| Pricing | 0.20$ / minute |
| Turnaround Time for 1 hour audio files | 10 minutes |
10. Vocalmatic
Podcasters and journalists can use this simple web tool to transcribe audio and video files. Vocalmatic allows users to convert a video or audio recording into text in just a few simple steps by uploading an MP3, WAV, MP4, WEBM, or MOV file to the site, which is then transcribed by Vocalmatic's AI.
Once the transcription is complete, the platform sends you an email with a link to change the text. You may speed up the playing of the file you're transcribing or fast skip to a specific point of the recording using the app's online text editor, which gives you complete control over the timecoded transcript.
Comparison of the Best Audio Transcription Software
| | | | | | | |
| --- | --- | --- | --- | --- | --- | --- |
| Transcription Software | Accuracy | TurnAround Time (for 1 hour audio file) | Languages Available | Business Account | Pricing Model | Price |
| Gglot | 85% | 5 minutes | 120 | Available | Pay per use | 0.20€ / minute |
| Rev | 80% | 5 minutes | 31 | Available | Pay per use | 0.25$ / minute |
| Sonix | 80% | 10 minutes | 30 | Available | Pay per use & Subscription | From 10$ / hour |
| Otter Basic | 80% | 10 minutes | 1 (English) | Available | Subscription | Free (600 minutes) |
| Descript | 80% | 10 minutes | 1 (English) | Not Available | Subscription | Free (180 minutes) |
| Transcribe | N/A | <1 hour | 60 | Not available | Subscription & Pay per Use | From 20$/year + 6$ / hour |
| Trint | N/A | 10 minutes | 31 | Available | Subscription | From 55€ / month |
| Temi | Up to 99% (according to their site) | 10 minutes | 1 (English) | Not Available | Pay per Use | $0.25 per minute |
| Audext | N/A | 10 minutes | 3 | Available | Subscription & Pay per User | 0.2$ / minute |
| Maestra | N/A | 10 minutes | 50 languages | Available | Subscription | From 29$ / month |
Best Transcription Software to transcribe your podcast
If you are looking to automatically transcribe your podcast it's likely that you are looking for a transcription software tailored to the needs of a podcaster. Here are some alternatives that you can use to auto-generate transcripts from your podcast content.
Simon Says
The powerful AI speech recognition algorithm on the platform is designed to accurately transcribe both audio and video data. Simon Says is accessible in more than ninety languages, allowing you to transcribe video and audio files regardless of the podcast's language.
Free YouTube Transcription Software
If you're looking for a free transcription software, YouTube is a good place to start: Turn your audio recording into a video and post it to YouTube, where you can get a free transcript using the website's captioning service (be sure to set the upload to private for security reasons). However, the YouTube upload process required so much effort and time that we rapidly eliminated this alternative.
What are the main reasons for using a transcription software?
Time Savings
Using a transcription software, you can reduce turnaround time up to 4 times!

To boost your SEO
Your SEO strategy can greatly benefit from using transcribed content. The reason being, that if you don't, you're basically losing out on a lot of content that you've poured hard work into, only for it to not really "count" by Google's standards.
You could have an hour-long video with great quality content, but if it is not reflected somewhere in text-form, Google will not be able to interpret it, and as a result, your content's SEO ranking will take a hit.
You can think of it as getting more bang-for-your-buck (and effort) if you produce audio or video with rich text-form content. It's all about making it easier for Google to understand what your content is all about. By doing so, your content will rank better and the likelihood of it reaching the audience it was intended for will increase significantly!
To hit a wider audience
If you produce podcasts or videos for Youtube or any other social channel, you'll want to consider transcribing your media. This practice will help you expand on your audience and maybe even reach out to other demographics other than your main one.
Have you ever watched a video without any audio? Perhaps while on the subway, bus, or even while waiting for your turn at the bank? Of course you have, so has everyone else!
Watching videos with audio isn't always possible, so by transcribing your content, you are providing your audience with text-format content that will not only help to keep them engaged for longer, but it's also proven that textual information increases the viewer's comprehension of the subject and makes it easier to remember. What's the point of producing content if your viewers won't remember it?
Plus, transcribing your videos is a great way to reach more viewers whose native language is not necessarily the same as the one featured in your content. By being able to read the information and not just listen to it, they will be more likely to watch, understand, and retain the content you've worked so hard to create.
To make your content more accessible
Transcription services make it possible for your media to be accessed by a wider audience, including the deaf and hard of hearing. In 2022, content accessibility should be at the core of all content marketing strategies, and using transcription services is a step in the right direction to optimize your content for people of all levels of abilities. As you can see, transcribed files will always have a use if you're in media production!
What aspects to consider when choosing a transcription software
Accuracy
When it comes to transcription software, this is the most important factor to consider. Most AI-based automatic transcribing solutions can achieve accuracy levels of up to 90%, whereas human transcribers can achieve accuracy rates of nearly 100%.
When it comes to transcription software, we recommend using the free trial to assess the tool's accuracy. Is it possible that the transcriptions it generates have grammatical errors? Are there any punctuation mistakes? These are some of the things you should think about.
Turnaround Time
The time it takes for a transcription service to return a completed transcript is referred to as turnaround time. Automatic software is quick, taking only a few minutes to complete a full transcript. However, you may have to proofread the final transcript.
Pricing
When it comes to any software, cost is always a factor worth considering, and automatic transcription software is no exception. As you may have noticed, most services have a multi-tiered pricing structure that varies depending on the features you require.
Large organizations can choose tailored plans, but small enterprises and individual content creators can choose pay-as-you-go. Most transcription software comes with a free trial or demo version that you may use to see if it's right for you.
Editing Tools
When using a transcription software, it is likely that you need to proofread the final transcript. We recommend you choose a tool that offers an easy-to-use transcription editor, enabling you to play your recording while you proofread the automatically generated transcript.
If you are part of a big corporation looking for a transcription software for your business, make sure the tool you choose has collaboration tools and workspaces. Luckily for you, Gglot offers sharing options, and has workspaces available so you can share transcripts or subtitles with your team.
Number of languages available
In case you are planing to automatically transcribe your content in several languages, one of the things you should look for is the number of languages available in each of the software.