Steps On How Upload Your Podcast To Spotify
If you follow the recent trends in digital marketing, you surely already know that podcasting is one of the rising stars. Podcasting is a modern, effective way to promote your business or ideas and gain followers. One of the biggest advantages of this method is that it does not require much resources, and anyone sufficiently technologically savvy can make a podcast channel on YouTube or their personal blog. However, if you want to reach as many people as possible, you should take extra steps and upload your podcast on many different platforms. One of them which is really worth mentioning is Spotify. In this article, we have outlined detailed procedure on how you can upload your podcast to Spotify .
Before getting started with the steps, we will first help you to understand what is Spotify and then you can decide if it is worth it.
Spotify is a very well-known streaming platform, used and loved by many podcast enthusiasts. It was first launched in October 2008, by a Swedish media and audio streaming provider. The global headquarters of the company is currently located in Stockholm, Sweden and the so-called corporate headquarters is based in New York City.
Spotify works by offering a huge choice of recorded music and podcasts. Its database includes, at the present moment, over 60 million songs that come from many global recording labels and various media companies. Its business model is based on the so-called freemium service. In this kind of service most of the basic features of the streaming platform are free to use, but they come with limited control and built-in advertisements. Some advanced features, for example listening to the content without being interrupted by commercials, or an option to download the content in order to make it available offline, can only be accessed after the user pays for the full subscription (which is $9.99 per month at the moment). The platform is easy to use, and the music can be explored in various ways, based on albums, genres or particular artists. Users can also get creative when it comes to making and sharing their own playlists or albums. So, it isn't really a surprise that it is a very popular platform.
Another interesting thing about Spotify is that its payment model is different from conventional sales of physical albums or downloads. In these classical models, artists are paid a fixed price per every song or album that is sold. In the case of Spotify, the entire royalties that are paid are based on the total number of streams of that particular artist, measured as a proportion of overall songs that are streamed on the platform. Spotify will then distribute roughly 70% of the total revenue to the holders of the rights for the songs, and these are in most cases record labels. Artists are paid in the last step by their record labels, based on their individual agreements.
Spotify is a huge platform, it already has around 300 million listeners and more than 135 million subscribers. As already mentioned, it has a really diverse selection of audio content, and it also started with podcast streaming in 2018. In the year 2020 it already offered over one million different podcast shows. According to some rough estimates, more than 40% of all podcast consumers listen to their podcasts via Spotify. This means that no matter the topic of your podcast your potential audience probably already uses Spotify and it is the right place for you to upload your podcast. You cannot go wrong by choosing the largest and one of the best organized platform there is.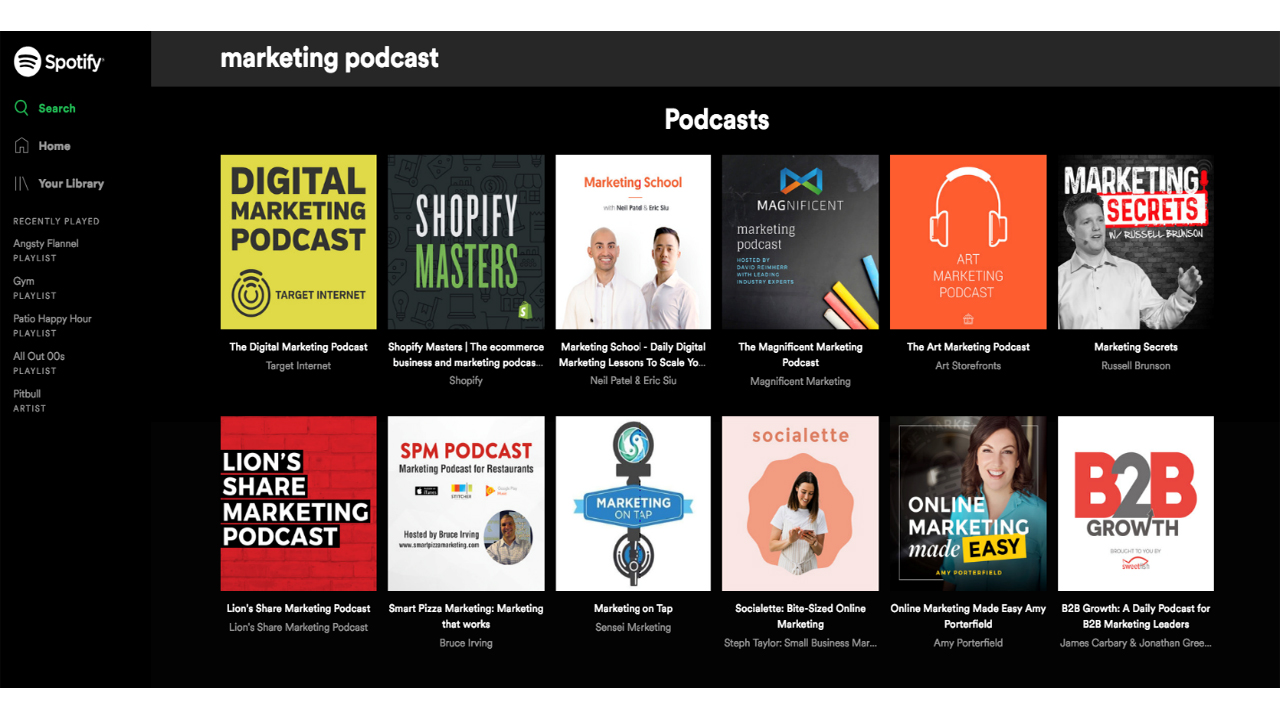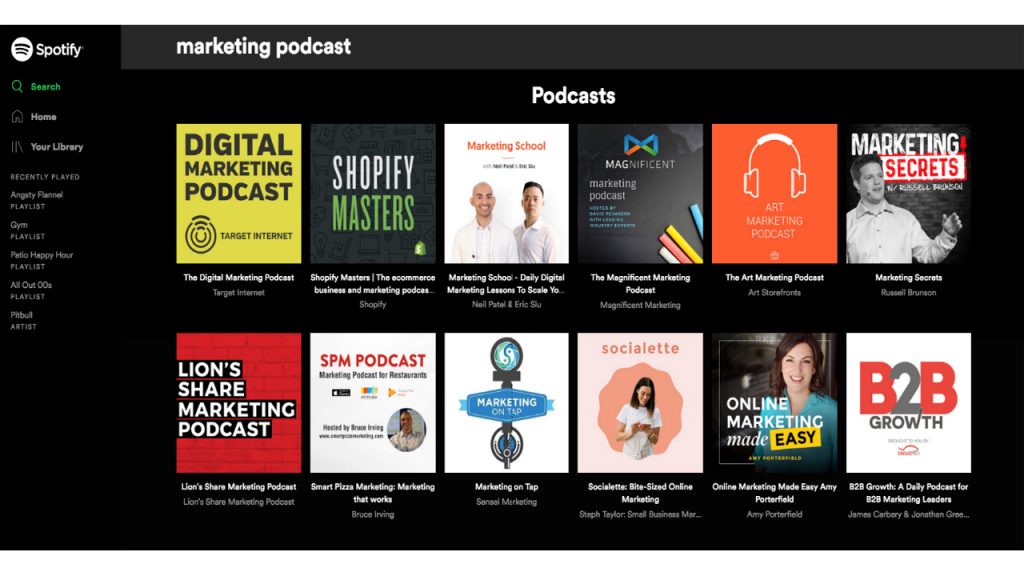 Does Spotify have any disadvantages? Well, indeed, there are some shortcomings. Unfortunately, you can't add transcripts to the podcast, which makes the podcast inaccessible to people who are hard of hearing or non-native speakers. You can tackle this problem simply by implementing the transcript on you podcast website. You can create the transcript either manually, by yourself, or hire professional transcription service providers, like Gglot to help you with that. Simply, send your audio content via the Homepage and you will get your accurate transcript for a fair price. Our team of skilled transcription experts is ready to tackle any audio or video content, and you can be sure that the final result of their efforts will be a very precise transcription, which you can then edit and format on our website, before downloading it to your computer. Our team has years of experience in the transcription business, and can handle any kind of content, no matter the language variant, slang or specific terminology. If your content is based on sophisticated discussions of specific themes, it would be very useful for you to add the podcast alongside your audio or video, in order to prevent any misinterpretations. Your audience will surely appreciate the additional effort, and the end result will be more subscriptions, which, of course, means more revenue coming your way.
Overall, transcription is the single most important step you can make in order to ensure that your podcast has the maximum audience outreach, and it will also make your content more accessible to people who are hearing impaired. Another great thing about it is that it can come really handy in situations when people have the time for the podcast, but they, for example, don't have the headphones with them, because they are sitting in the crowded train and commuting to work. In situations like these, it is extremely useful to have the transcription of the podcast episode, so that your regular audience does not have to miss out on your content. They can simply read the transcription of the episode and be informed about its content. If they like the content of the episode, they will probably listen to it when they have the time. Most marketing experts agree that the crucial thing when it comes to maintain the loyalty of your fans and subscribers is precisely this regularity in providing interesting and accessible content, with many options regarding its format.
We hope that we have managed to convince you about some of the crucial benefits of adding transcription alongside your audio or video content. We will now proceed to explain the basic procedure of actually uploading your podcast to Spotify.
The most important thing when it comes to Spotify (or any other streaming platform) is to make sure that your podcast meets all the requirements of Spotify.
Here are the Spotify Podcast Requirements:
The Audio Format: You need to make sure that the audio file of your podcast uses the so-called ISO/IEC 11172-3 MPEG-1 Part 3 (MP3) format with a bit rate of 96 up until 320 kbps.
Artwork: Stellar cover art should be square (1:1) and it should be in high-resolution. The required format can be PNG, JPEG or TIFF.
Title and Description: Keep in mind that Spotify likes short and concise titles. Every episode title can only use up to 20 characters. For other consumer-facing fields requirements are the same.
RSS Feed: It is important that the RSS feed of your podcast don't miss a title, description and cover art. One live episode is also required.
You can log in via Facebook or Apple or simply click on "Sign up for Spotify". You will have to type in your name, e-address, birth date, gender. The next step is to click on the verification link that will be sent to you via e-mail. That's it – you have now created an account.
The first time you log in to Spotify, terms and conditions will be presented to you. After you have accepted them, you will be redirected to your dashboards. Choose "Get Started" to add your podcast. To do so, enter the RSS feed link of the podcast you want to upload which you can find on your podcast hosting service. Make sure to enter it correctly and click next. Now the title, description and artwork along with the creator's name should show up on the right side.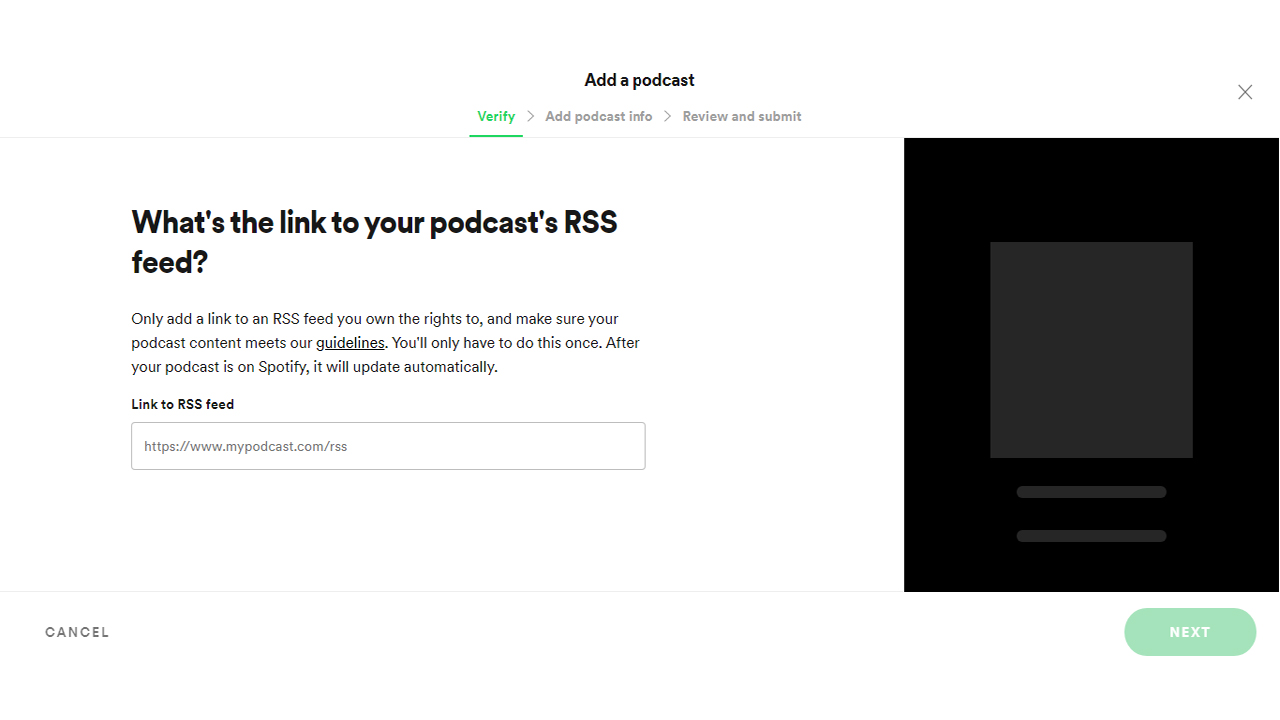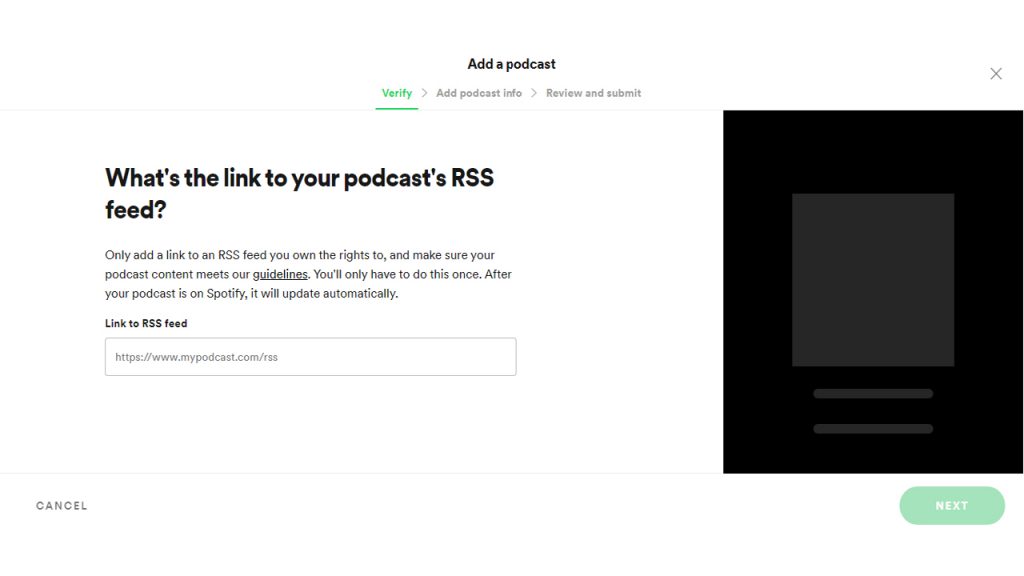 Spotify needs to check if you own the podcast. So, you will need to click on "Send Code", and an 8-digit code will be sent to the email address connected to the RSS feed. You'll have to enter it on your dashboard and hit "Next".
Now it is time to give Spotify information about the language of the podcast, the hosting provider's name, the country where the podcast was recorded. Also, you need to select the categories and sub-categories of the subject of the podcast. When all is done, once again hit the "Next" button.
Now, check if all the information you entered are correct. If the answer is positive, click "Submit".
Before the podcast becomes available, Spotify also has to review it. This usually takes a few hours, mostly a few days. When it is approved, it goes live. Check your dashboard for that, because you won't be notified.
In Conclusion
We really suggest to upload your podcast on Spotify since it is a great platform to gather a wide audience. The submitting process isn't complicated, so it is worth it?